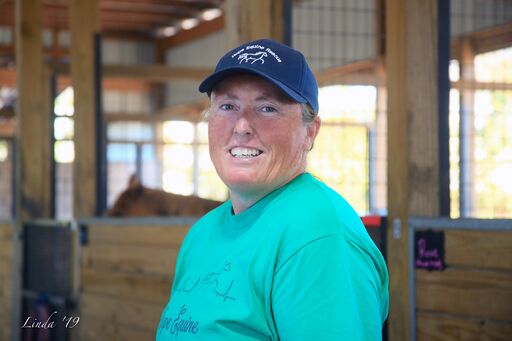 Dani Horton
Founder, President
Dani is a certified equine massage therapist and riding instructor. She is also certified in large animal rescue. Dani has more than 30 years of equine experience. She has won numerous titles and awards in barrel racing, breakaway roping, pole bending, halter, Western pleasure and obstacle challenges. She is a member of the Polk County Mounted Search and Rescue Team, as a volunteer.
Prior to retiring to focus on the rescue, she spent 12 years working for a private company, working her way up from receptionist to office manager.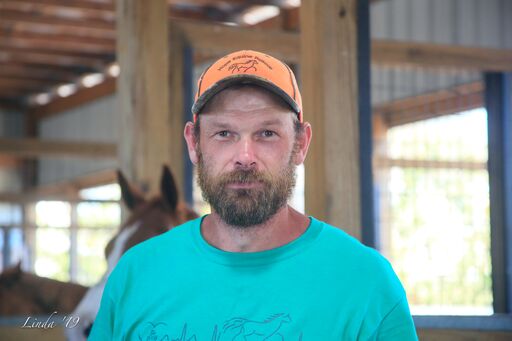 Wayne Elkins
Vice President
With more than 18 years of experience, Wayne is a certified farrier with an established client-base in the Polk County region. He specializes in horses that are difficult to handle. He recently earned his certification in large animal rescue.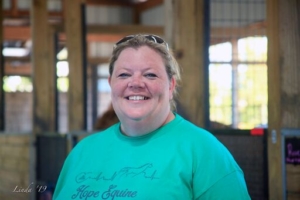 Mary Shields
Reading With Rescues Director
Mary is our Reading With Rescues director. She is a professional saddle fitter for Black Bird Equestrian as her full-time job and enjoys spending some of her spare time at the barn helping with events and other things that are going on.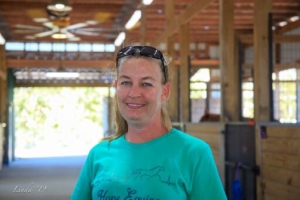 Cat Madden
Adoption Director, Training Team
Cat has been with the organization since 2013. She is our adoption director and also is on the training team. She spends a lot of her spare time at the barn helping with many of the daily chores and horse training.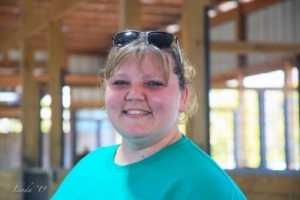 KaSandra Howe
Fundraising & Digital Media Director
KaSandra has been with the organization since 2015. She has served on the board for 5 years. She is also part of the adoption team and assists Cat when needed. KaSandra has fostered and adopted from us and has always had a love for horses. She is a teacher and bus driver for her full-time job and loves to assist with events and with whatever else is going on at the barn.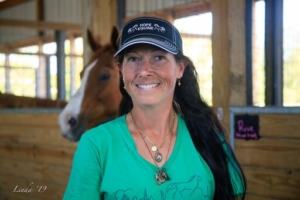 Leigh Ann Webb
Volunteer Director/Rehab Horse Trainer
Leigh Ann Webb is a Licensed Massage Therapist at Lake Wales Massage Therapy Center. 10+ years experience. She is also our Volunteer Director at Hope Equine. Feb 2019 to Present. She runs our volunteer orientation, trains new volunteers during their training period. She helps the barn run smoothly, coordinates sign up app and Volunteer FB page Leigh Ann recently joined the training team as a Rehab Horse Trainer (30+ years experience with 15+ year professional experience) at Hope Equine July 2019 to Present. Directly helps evaluate new horses and if rideable, rides them w/t/c over jumps and obstacles. Leigh Ann's hobbies include trick training her riding horse, Mack Daddy and her adopted HER Rescue mini, Batman! They are Webb Therapy Ponies and they go to local assisted livings and offer Pet Therapy. Leigh Ann currently is working out her insurance needs to be able to generate a donation to HER via these trips. She and her husband have been married for 4 years and they currently have two dogs, a cat, and two ponies. She is a life-long resident of the Lake Wales area with a life-long horse obsession. Leigh Ann's professional horse experience includes Arabian Nights Dinner Show and Al-Marah Arabians.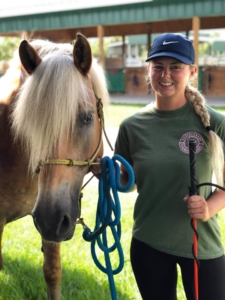 Alanah Pruitt
Horse Trainer
Alanah Pruitt started her equine journey with competing in 4H for 5 years. She and Clover, her home grown & trained equine partner, achieved multiple Reserve High Point and High Point championships at the county and district level. She is a 2x state champion in the Keyhole event!
Over the years, Alanah has studied and continues to advance her horsemanship skills with education through riding & learning from other local trainers, competing at shows, and by her work at Hope Equine Rescue.
Alanah started off as a volunteer at the rescue years ago, and after advancing her knowledge throughout college, she was later hired as a trainer. At Hope Equine Rescue, she works and trains abused horses that have behavioral problems and PTSD. Many of the skills she uses is a result of her being a level 2 Savvy student of the Parelli Natural Horsemanship Program.
It is Alanah's goal to improve communication and partnerships between horse and rider teams, and to help owners and potential adopters communicate better with their equine partner.